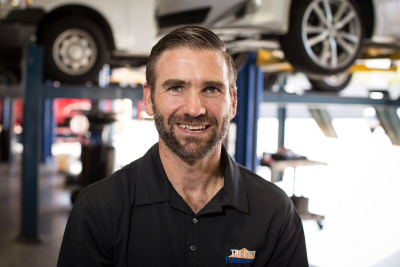 Dave
Owner/Technician
Dave is an ASE Certified Technician and has been in the automotive industry for over 20 years. He got his start working on cars by helping out his grandpa fix the family vehicle. When he got his first a car, a Jeep, he was hooked.
Dave loves working at Tri-City because he loves people. From customers, to employees, to vendors, Dave enjoys interacting with people. His goal is to influence his corner of the world for the positive.
In his spare time Dave enjoys mountain biking and spending time with his family.
Aaron
Service Manager
ASE Certified Master Technician
ASE Certified Service Writer
ASE Certified Parts Specialist
Aaron has over 40 years automotive experience. His first job was at a full-service gas station in his hometown of Pontiac, Illinois. From then on, he was in love with working on cars. He studied automotive technology in high school and then went on to graduate from Wyoming Technical College Automotive School. After that he decided he didn't want to go back to Illinois, so he started sending out his resume. He got the most responses from future employers from Arizona and so Aaron packed up everything he owned and moved, and he has never looked back.
Aaron's first car was a 1971 Buick station wagon affectionately known as the "Rust Bucket." However, today Aaron is a big fan of Lexus and Toyota automobiles. Both he and his wife drive Toyota Highlanders and his son drives a Camry. Aaron says, "If you take care of a Toyota, it will last you forever!"
In his free time Aaron likes to travel, hike, ride bicycles and spend time with his family.
Cassie
Service Manager
Cassie is an ASE Certified Service Manager with over 29 years in the automotive industry. She hails from Southern California. Cassie says that she likes working at Tri-City Transmission & Auto Repair because of the vibrant atmosphere and wonderful people. Cassie is also a Ford Master Service Advisor and holds additional ASE certifications in engine repair, engine performance and automotive electrical.

Cassie's first car was a 1970 Ford Galaxy convertible, but if she won the lottery, her dream car is Jaguar F Type R or a 1969 Daytona Charger.

In her spare time Cassie takes care of her 7 cats and 1 tortoise, enjoys cooking, reading, attending Comicon conventions and collects Día De Los Muertos artwork.
Jon
Lead Diagnostic Technician/Crew Trainer/Quality Control
Jon, a rare Phoenix native, is an ASE Certified Master Technician with almost 40 years in the industry. He started as a lot attendant at "Valley Dodge" in 1977 and worked his way up. What Jon likes best about working on cars is the sense of accomplishment it gives him to do a job well. He enjoys working at Tri-City because he gets to learn a lot of new things and everyone at Tri-City is professional. He says that there is a great group of people working at Tri-City. At the same time, Jon has also taught Automotive Technology for 25 years. He's known as the "technicians' technician." In his spare time, he likes to play the guitar.
Kristian
Lead Transmission Builder
Kristian is an ASE Certified transmission rebuilder who hails from Chicago. He has been in the auto industry for 25 years, 20 years of that specifically rebuilding transmissions. He got his start working on cars when he got his first car in high school. Kristian enjoys working at Tri-City Transmission because he says it's like family. Plus, he gets to work on some pretty cutting-edge stuff.
In his spare time, Kristian enjoys photography and keeps King snakes. Growing up, his sister was allergic to dogs and it was the only pet he could have as a kid!
Chris
Technician/Shop Foreman/Transmission Builder
Chris is from Salt Lake City and has been an ASE certified technician in the automotive industry for 12 years. He started working on cars when he was 16 because his step-dad owned a shop and he worked with him. Chris says he enjoys the sense of accomplishment he gets when he's working on cars. He enjoys working at Tri-City because it's such a clean shop! For fun Chris likes to work out. His pets include two dogs and a bunny.
Josue
Technician
Josue is a certified auto technician and has been in the automotive industry almost 20 years. He loves the challenge of working on cars. He says his favorite thing about working at Tri-City is working with his coworkers. They are smart and professional and easy to get along with.
In his spare time, Josue likes to go out to eat and considers himself a "foodie." Some of his favorite restaurants are Korean BBQ's.
Jay
Technician
Jay is from Chandler, Arizona, and has been in the automotive industry as a certified technician for almost 20 years. He says he's a "car person through and through" who just loves working on cars. He says the best thing about Tri-City is that it's so much better than other shops he's worked at. "The people are cool." He said, and the environment is clean, comfortable and better equipped than most.
For fun Jay likes to work on old cars, more specifically his 1954 Chevy hard top.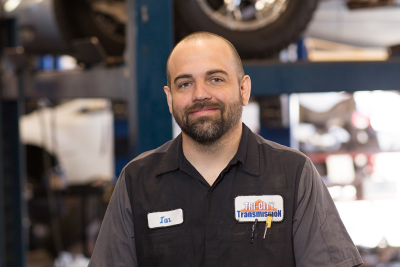 Ian
Technician
ASE Certified Technician
A Phoenix native, Ian has been a technician in the automotive industry for over 22 years. Ian's dad owned an auto repair shop when he was growing up and Ian worked there for many of his formidable years. You could say that fixing cars is in his blood!
Ian is a graduate of the Ford Asset automotive technician program at Glendale Community College. After graduation Ian worked for a local Ford dealership before going to work for a local independent repair shop. Ian has certifications from Ford as well as ASE.
Ian's first car was a 1973 Ford Galaxy 500. He currently drives a 1989 Oldsmobile Delta '88 that had super low miles on it and he got for a screaming deal. When Ian is not at work he likes to play heavy metal music in a band with his friends. Ian plays the guitar, drums and bass. He also enjoys hanging out with his family.
Mike
Transmission Rebuilder
Mike got his start in the auto repair industry at 15 years old, right here at Tri-City Transmission. Mike's dad told Mike that the other business partner, Leon, had to be his boss because he knew how hard dads could be on their sons and he didn't want that with him and his son. From the beginning, Mike had a knack for cars and he quickly moved up the ranks to rebuilding transmissions. Today Mike is one of the most knowledgeable transmission technicians in the Valley. He learned in the old school way which is neat, organized and systemic and that has helped him tremendously working with today's modern transmissions.
Mike's first car was a 1967 Ford Falcon. These days he drives a 2015 Dodge Dart. When Mike is not working on transmissions he enjoys playing the guitar and the drums.
Jake
Apprentice Technician
Jake is from Longview, Washington and moved to Arizona to attend Universal Technical Institute. Jake loves working on cars which is why he decided to do that as a career. He likes working at Tri-City because of the honesty and the camaraderie. He says everyone is very helpful and shares great advice which is very valuable to him as an apprentice. When Jake is not working on cars he enjoys hiking and exploring Arizona.
Becci
Customer Service
Becci grew up in Gilbert, Arizona, showing and raising cattle on the family farm. She got her first taste of cars as a child going to Manzanita Speedway with her dad and older brother.
Becci enjoys working at Tri-City Transmission & Auto Repair because it's just like family and it's a fun atmosphere to work in.
In her spare time, Becci likes to spend time with her family, take road trips, listen to music, and meet new people.
Mark
Manager/Technician
Mark is an ASE Certified technician who has been in the business for over 20 years. He works on some of the more unique situations at Tri-City and prides himself on being able to resolve conflict.
In his spare time he likes ride motorcycles and play the guitar.