Earning Your Trust for Over 45 Years!
Tri-City Transmission & Auto Repair Coronavirus Protocol
In the video to the right, owner Dave Riccio describes how Tri-City Transmission has made adjustments to their procedures to keep customers and employees as safe as possible from the spread of the Coronavirus. From vehicle pick up and delivery to auto service without in-person interactions, Tri-City Transmission is taking necessary precautions with social distancing, frequent hand washing, frequent hand sanitizing, and Lysol so that they can continue to provide a safe place for people to get their car worked on.
Welcome to Tri-City Auto Repair, a family-owned auto repair shop in Tempe, Arizona, for over 45 years.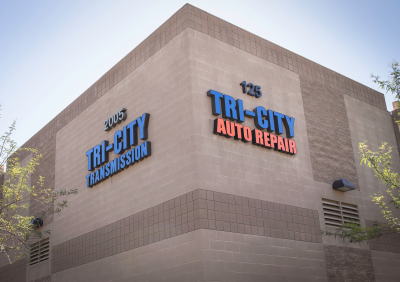 Here's what one customer said about Tri-City Auto Repair:
"I recently had my Toyota Camry towed to Tri-City when it quit running on a busy street. Later that day Tom contacted me said they would check it out next day. Thinking the worst Tom informed me a retainer clip was missing on the CV axle (the axle pulled away from the transmission). Tom ordered the part and the technician installed it, I went to pick up car next day. Tom informed there was no charge. I could not believe it! I would like to take this opportunity to thank Tri-City for their customer service and integrity plus what they charged me (nothing) I would recommend them to family and friends, once again Thank You!" - Joe R. Phoenix, AZ (Verified customer)
Tri-City Auto Repair works on all makes and models of cars including domestic, European, and Japanese imports, light trucks and SUV's. Whether you own an Audi or a Ford, our experienced and certified mechanics are there to provide the best auto repair at a fair price.
Tri-City Auto Repair provides complete auto repair in Tempe, Arizona including brake service, leak diagnosis, car tune-ups, radiator repair, and more.